Computer controlled local anesthesia delivery system.
It doesn't look like a syringe. It doesn't hurt like a syringe. And it works better than a syringe.
No more painful injections in dentistry! The Wand™/Compudent™ is a digital anesthetic instrument that places the numbing solution slower than humanly possible. Most patients comment that it is the most comfortable anesthetic they have ever received. With it being pain-free dental anesthesia, patients quickly overcome their nervousness.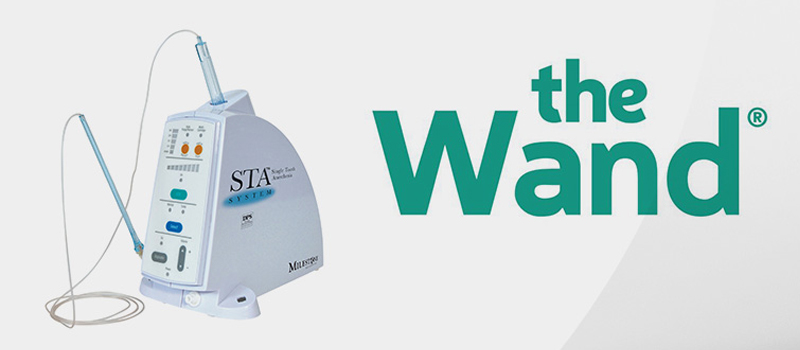 Better Injection for All Patients
Whether injections make you nervous or not, The Wand™/Compudent™ helps to provide a more effective anesthetic delivery. No more painful injections and you're more comfortable throughout your entire procedure.
The Wand™/Compudent™ is an excellent example of our doctors efforts to bring you the latest state-of-the-art dental technology and to help all patients have a pleasant, pain-free dental experience every time you visit.
How the Wand Works
The microprocessor inside The Wand™/Compudent™ automatically compensates for different tissue densities. The anesthetic is delivered at constant pressure and volume that is typically below the threshold of pain.
The computer provides a flow of anesthetic directly ahead of the needle. This numbs the site of insertion and develops a "pathway of anesthesia" so you hardly feel the needle at all.
The source of discomfort for most injections, however, isn't the needle; it's the flow of the anesthetic into your tissue. The Wand™/Compudent™ delivers the anesthetic at an optimal flow rate for a comfortable injection every time.